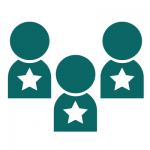 Recruitment Services
Temporary Staffing
Today's managers know the benefits of employing a flexible workforce to manage a short-term vacancy or to supplement current staff for special assignments or heavy seasonal workloads.
Learn More
Temporarily adjusting your workforce also offers an alternative to overtime and gives managers an opportunity to determine whether there is an interim need or whether they should be hiring a full-time permanent person for a particular job. It enables companies to optimize their people deployment by reducing the time and expense of recruiting.
As an added value, temporary employees often bring with them more than just a specific skill set; they bring fresh perspectives and experiences that in turn create a diversified knowledge base within your company.
At 1st Choice we conduct an IN-PERSON evaluation with applicants and administer English and Math skills testing and GMP, WHMIS and Health & Safety Training.
Temp to Perm Hire
We send you a candidate that has been recruited, interviewed, tested and referenced with a view to a permanent placement but that allows you the time to observe and assess to determine if they are the right fit for the position, the work environment and the corporate culture. It minimizes the hiring risk and helps ensure a great match.
Permanent Placement
Hiring on a permanent basis is a big decision in any organization. It's imperative that both the candidate and the company want to engage in a lasting and positive business relationship.
Learn More
Hiring someone who turns out to be wrong for a position wastes time and money. It's our mission to help our clients find the right talent the first time.
The key to this process is a team of professional staffing specialists trained to source, pre-screen and present suitable applicants. At 1st Choice Staffing we understand the challenges of finding the best candidates in any industry and our recruiters have the expertise and experience to provide solutions. And, throughout the entire placement process we ensure the utmost confidentiality. We understand and recognize the sensitivity of workplace relationships.
Our rigorous search process involves:
Helping you clearly define your needs by prioritizing essential skills and experience.
Identifying candidates who best meet your criteria.
Pre-qualifying candidates through behavioral interviewing while focusing on technical abilities, aptitude, work experience and interpersonal style.
Assessing candidates by testing and evaluating specific skill sets, conducting behavioral interviews, aptitude testing and performing credit and criminal background checks if required.
Presenting pre-qualified candidates' resumes, arranging interviews and serving as the liaison between our clients and the candidates.
Verifying the credentials of one or several ideal candidates, reference checking and confirming compensation, availability, and other relevant details.
Coordinating all communication regarding an offer of employment by presenting and retrieving relevant paperwork and confirming the logistics related to a candidate's hiring.
Following up on a successful placement at regular intervals to gather feedback and confirm that both sides are satisfied with the employment situation.
Our commitment for a successful search:
We won't send you candidates who don't have the education, training, skills, and experience to succeed in the job.
We will send you candidates who will easily integrate into your business culture and who you can envision working closely with, day in and day out.
We won't send you those "dream" candidates…the ones who look so good on paper that you jump to meet with them without thoughtfully reviewing your hiring criteria. Sometimes you can end up putting a good candidate in the wrong job. We'll help you take the time to think about exactly what you're looking for, and then make a judgement based on facts.
We won't rush the recruitment process. Sometimes a sense of urgency makes it tempting to send you the first qualified candidate. We'll stay patient and thoroughly screen and interview several candidates. It's more important to fill a position suitably than quickly.
We'll negotiate with your chosen candidate in good faith, ensuring that both parties are content with the outcome and looking forward to a long-term successful working relationship.
Ready to Partner with the Right People?
Contact us today to discuss the services you'd like to utilize for your business!